100% Preshrunk, Ringspun Cotton T-Shirt
The shirt, like the Cabana Boy himself, is ready to serve you!
Super soft
Like really soft…Softer than the sands of Fiji, no. Softer than a smooth strawberry daiquiri…No! Softer than the warm embrace of the captain's daughter…and that's pretty damn soft!

Double-needle stitching throughout
This gives you the extra protection needed for when people scratch and claw at the shirt trying to rip it off for their own desires.
And now we see the uniform for the dependable Cabana Boy!
The Cabana Boy knows when and where he is needed. His satisfaction comes from the happiness he brings his patrons. His happiness comes from the limited few that truly appreciate the services a Cabana Boy can provide.
---
Trademark & Copyright Note:
Island Jay is the original creator of the "I'm the Cabana Boy" brand. It has come to our attention that other websites, including sellers on eBay & Amazon, have been counterfeiting our designs. Pretenders, thieves, and unoriginal losers each and every one of them.
Not only are these criminals in violation of our legally protected trademarks and copyrights, they're selling grossly inferior knock-offs at discount prices and hurting our good name in the process.
Please protect yourself and the good people who have built our brand by purchasing only from our website.
---
About the fit of our I'm Her Cabana Boy T-Shirt
The relaxed fit is not skin tight and is for everyday wear. The t-shirt is stitched well and will hold up wash after wash. Click the size chart above to find your best fit.
The prints are vivid and have a soft feel to them.
How to care for your Island Jay T-Shirt:
Wash cold and hang dry. That's it!
We both know you are not going to hang dry this tee, so tumble dry low and it should be good.
You turned the dryer on high, didn't you? It will be fine if you do this from time to time. 
If you ever decide to iron your t-shirt (Trying hard not to laugh as I type this), be sure to iron it inside out.
---
Island Jay: Your One-Stop Destination for Relaxation
As the Chief Relaxation Officer at Island Jay, my goal is to help you embrace the beach lifestyle and find peace and tranquility in your everyday life.
Our collection of beach products is carefully curated to help you bring the essence of paradise into your home. But at Island Jay, we believe in more than just shopping. That's why we encourage you to explore our blog posts and social media pages, where you'll find inspiration and advice on how to live the beach life.
So why wait? Take a 60-second break from reality and come back to Island Jay. Whether you're shopping for beach products or just looking for a moment of peace and relaxation, you'll find what you need to "Relax Your Life" here.
Yours in tropical relaxation,
Island Jay
Such Fun
Love the whole line of Cabana Boy items! Hoping my hubby will proudly wear this!
My Cabana boy is happy!
Totally love these shirts! He now has 3 total and I am thinking we need one for each day of the week! :)
We wanted a cabanna but so far just for shirts for it!
Me and my boyfriend got these matching.. we love it!! So cute!! All started because I wanted a cabanna at the casino lol
perfect gift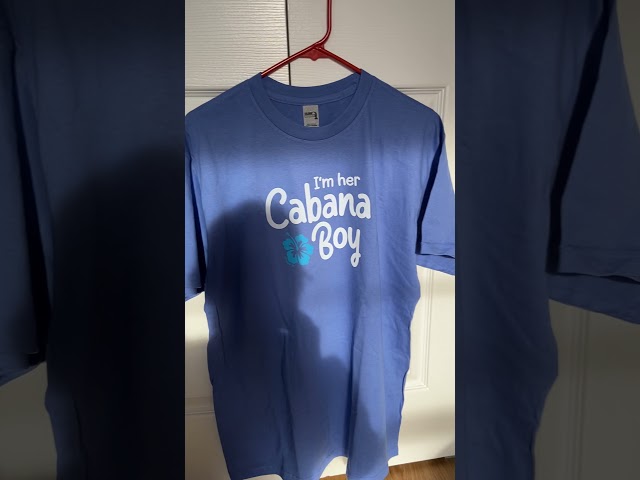 Cabana Boy T-shirt
Nice material and true to size.
Thank you very much . This one is quite large but comfortable.