---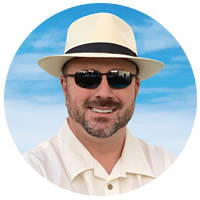 My job is to usher you into a tropical state of mind as often as you wish. And you, my friend, appear to be someone in need of my services. I encourage you to take a moment and enjoy the lifestyle I can offer.
- Island Jay
---
Thirsty?
Explore our drink recipes & sip yourself away to a tropical state of mind.
---
Shop By Exclusive Brands
In addition to our own brand, Island Jay features a number of exclusive brands you cannot purchase anywhere else.
Our Customer Reviews Speak For Themselves
Top Quality
The material is so soft. The colors are perfect. The screen print is brilliant and crisp. My Cabana Staff loved the pale blue and the mint green. Both colors are excellent. Green looks even better in person. We would like to purchase Cabana bar towels when they become available!
Cute
I love this shirt. I have lots of shirts from here and never had any problems.
Super Cute!
Perfect for summer and very fast shipping!
Wonderful company!
I had a shirt that said it was delivered but I never received it.. Island Jay was amazing never questioned me just said we will send out another one! Wonderful customer service. I ordered 5 shirts for a surprise to use on vacation in Alaska. I will share pictures… Thank
You so much!! I have already referred some friends. Pics coming after trip!
Another awesome shirt
The shirt is awesome…as usual. Love the color, love the fit and love the material. Would like to see some more Key West designs and designs with pelicans…will continue to shop Island Jay…
Birthday gift for my son
He hasn't said anything yet, he's on vacation.
Completely satisfied with the purchase and delivery process. The shirt met all my expectations.
I'm The Cabana Boy STAFF T-Shirt
I placed my first order a few weeks ago and was so impressed with the level of quality and service that I ordered a second one. Have been recommending to friends. Its so nice to buy from Americans.
Awesome
Got my order fast . Looks great!
Cabana Boys!
I bought a couple of these shirts as uniforms for a friend and I as we escort our wives and other women to a beach house for a week. The shirt gives a "clear" scope for our duties!
Love Your Shirts
Perfect shirt for me. It arrived very quickly
Love the color and the fit 👍👍
Comfortable T
Great looking and comfortable t-shirt. I'm so glad I came across these online. Now whenever I wear it, I can be reminded of one of the best vacations I've ever had!
High quality great color!
Love the quality and color of the cabana boy T-shirt. Bought it for my husband for our lake trip. After doing a fabulous job as the cabana boy for the week, he finally got to wear it!