Like Jay himself, these Vintage Island Shorts are easy going and soft. They are made from 100% preshrunk ringspun cotton fabrics and colored with a special dye & mineral wash.
With a fabric weight of 8.25oz, they are as thick and soft as our well know Soft Style Hoodies. Imagine our hoodie wrapped around your waist making you feel soft and secure. Wait....that sounds weird. But you get the point.  
Island Jay's Vintage Island Shorts are durable, soft, and cozy. Designed for men, but women seem to like the soft fabrics as well. Great for a day out and still nice to relax with by sunset. Tiki torches are optional.

Dyed with a matching drawstring, they are then washed giving them a slight distressed look. No two are exactly the same. Features a back pocket and two jersey lined front pockets. The fit is forgiving with the elastic waistband. Jay himself wears and XL in these vintage shorts and other brands.

Please wash with care as the colors may transfer. We suggest that you wash our Vintage Shorts separately. Avoid contact with pale fabric & surfaces, and follow our care instructions carefully.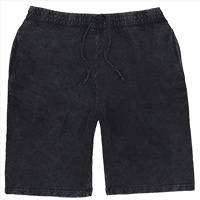 Our men's shorts tend to fit as sized below. Elastic waist shorts will have a little extra give to the waist area.