Seaside French Terry Crew Neck Shirt
Picture heading out for a little sun. The day is ending and as you pack up you feel something. A chill, but not any chill. It's a chill that heads up your spine and remind you of your last relationship. So what if you left your CD's at their house? It was a small price to pay to get away from them. But I digress. 
You quickly realize the chill was just mother nature and you breath a sigh of relief. As you shiver you remember your Island Jay Seaside Terry Crew Neck is in your beach bag. That will keep you warm. Then a frightening though comes and you realize something. You left it with your ex. 
The good news is if you had your Seaside Terry Crew Neck the warmth and love would start to make you smile. Your journey home would be that much better.
Our Seaside French Terry Crew feels like wearing a super thick t-shirt with a sweet texture feel. Not as warm as a traditional sweatshirt and far better than a regular long sleeve tee.
The Sales Pitch: A year-round French Terry style with flare. The light-weight, super soft, Seaside Melange French Terry Crew offers visual value with a texture play utilizing both sides of the fabric. The melange effect on the body and sleeves pairs perfectly with the reverse loop texture on the collar, sleeve cuffs and bottom band. he white cotton twill back necktape adds great hanger appeal while the extra touch of the elbow patches in the loop texture make this style the perfect elevated basic crew for any season.

How is it made?  6.2 oz. 68% polyester/32% combed ringspun cotton Seaside Melange French terry

Features:
Flatlock stitched self-fabric textured loop collar
Cotton twill back neck tape
Back locker patch
Self-fabric textured loop elbow patches
Flatlock stitched self-fabric cuffs and bottom band
Flatlock stitched side seams
Side seam construction
Tagless label

Wash cold and tumble dry low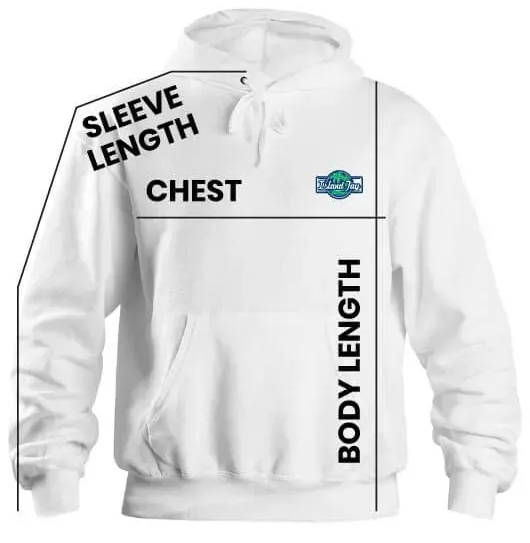 Many of our pullover hoodies, zip hoodies, and sweatshirts are unisex sized, including this one.
Helpful Tips
Women can order one size down from your Women's Island Jay Tee for a good fit with some bagginess.
Example: If you wear our tees in a size womens XL, then we suggest selecting a hoodie or sweatshirt in size L.
Men can order the same men's size Island Jay tee they wear now.