Soft & Comfy
Your Cabana Boy's uniform needs to feel good. Our Cabana Boy tees are made from 100% Preshrunk & soft ringspun cottons.
It Speaks For Itself
Patrons will know exactly who the Cabana Boy is and that their needs will be met.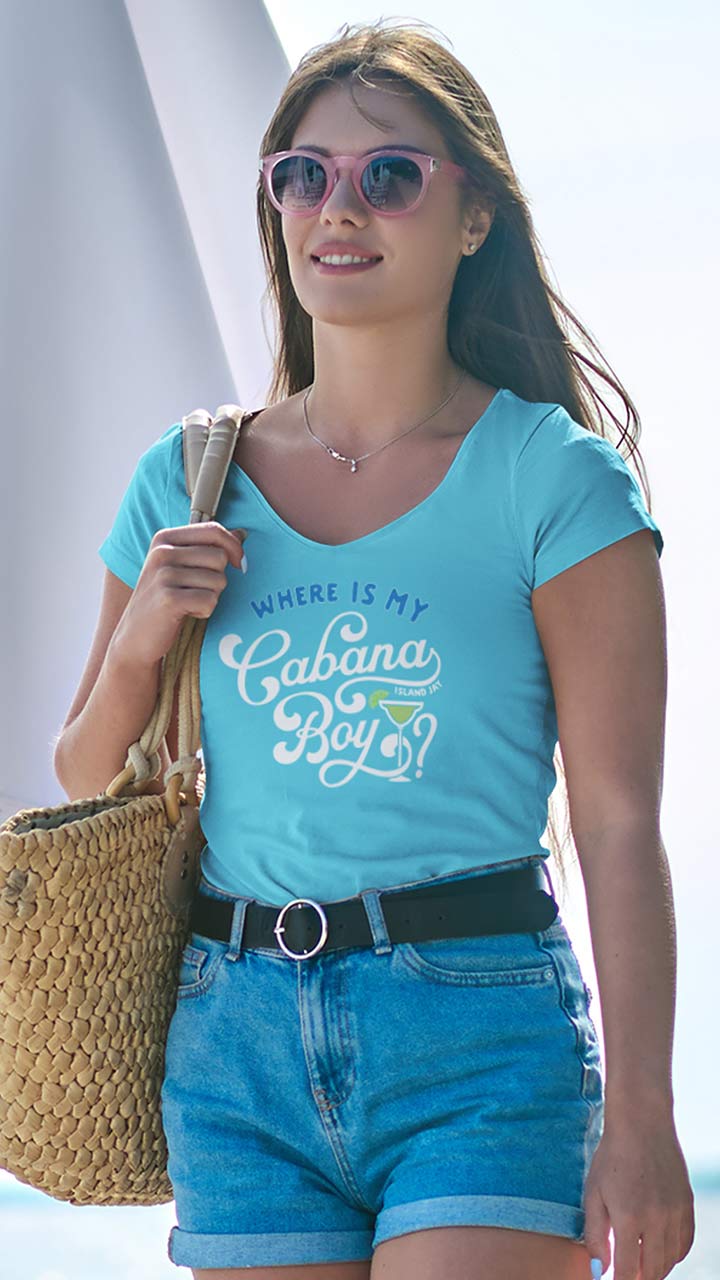 Best When Paired
And now we see the uniform for the dependable Cabana Boy!
The Cabana Boy knows when and where he is needed. His satisfaction comes from the happiness he brings his patrons. His happiness comes from the limited few that truly appreciate the services a Cabana Boy can provide.
The Life of a Cabana Boy
He may not always make his way in the realm of a Robert Louis Stevenson novel, or on the guest list of a yacht…hell, he may not even find his name at the bottom of a resort roll call list.
But when he is needed, he is there in uniform.
---
Trademark & Copyright Note:
Island Jay is the original creator of the "I'm the Cabana Boy" brand. It has come to our attention that other websites, including sellers on eBay & Amazon, have been counterfeiting our designs. Pretenders, thieves, and unoriginal losers each and every one of them. Not only are these criminals in violation of our legally protected trademarks and copyrights, they're selling grossly inferior knock-offs at discount prices and hurting our good name in the process. Please protect yourself and the good people who have built our brand by purchasing only from the Island Jay family of websites.
LS shirts for boating
Great quality, easy to order and shipped timely
I bought all of these for gifts
So far everyone has loved their gift. ! Loved the quality. Thanks for prompt service!!!!
Great product and Great People !!!!!
Now a staple
This is shirt 13 or 15 short sleeve log sleeve whatever I like yours because they are 100% cotton not the performance style the rest are pushing. It's winter here in Gainesville Fl and still a longsleeved Cabana Boy
Cute but quality isn't there
The shirt is cute, but the image is an iron on, not silk screened. Maybe it will hold up longer but it feels cheap. Definitely not going to be a repeat buyer.
Hi Janet, Anna here to help and sorry you are not happy with your purchase. My goal is your 100% satisfaction and I would like to offer you a refund replacement with no need to return anything back to us. Please reply back to our email so we can get you taken care of. Thank you, Anna.
Late but Great
It took a little longer to get, but it was well worth the wait. The color and fit are awesome. Love the Cabana Boy logo.
T shirts
Love them. Great service and prompt arrival.
Love my Cabana Boy
I have had a broken ankle for 7 weeks. This was the perfect way to thank my hubby for all the help he has given and taken such great care of me! He loves it, fits great and super soft! Thanks Island Jay! Keep up the good work.
Great quality , fast delivery
Never received order
I would like to hear from someone. Never received the order. 26284 Camden Lakes Circle, Naples, Fl. 34110