Soft & Comfy
Your Cabana Boy's uniform needs to feel good. Our Cabana Boy tees are made from 100% Preshrunk & soft ringspun cottons.
It Speaks For Itself
Patrons will know exactly who the Cabana Boy is and that their needs will be met.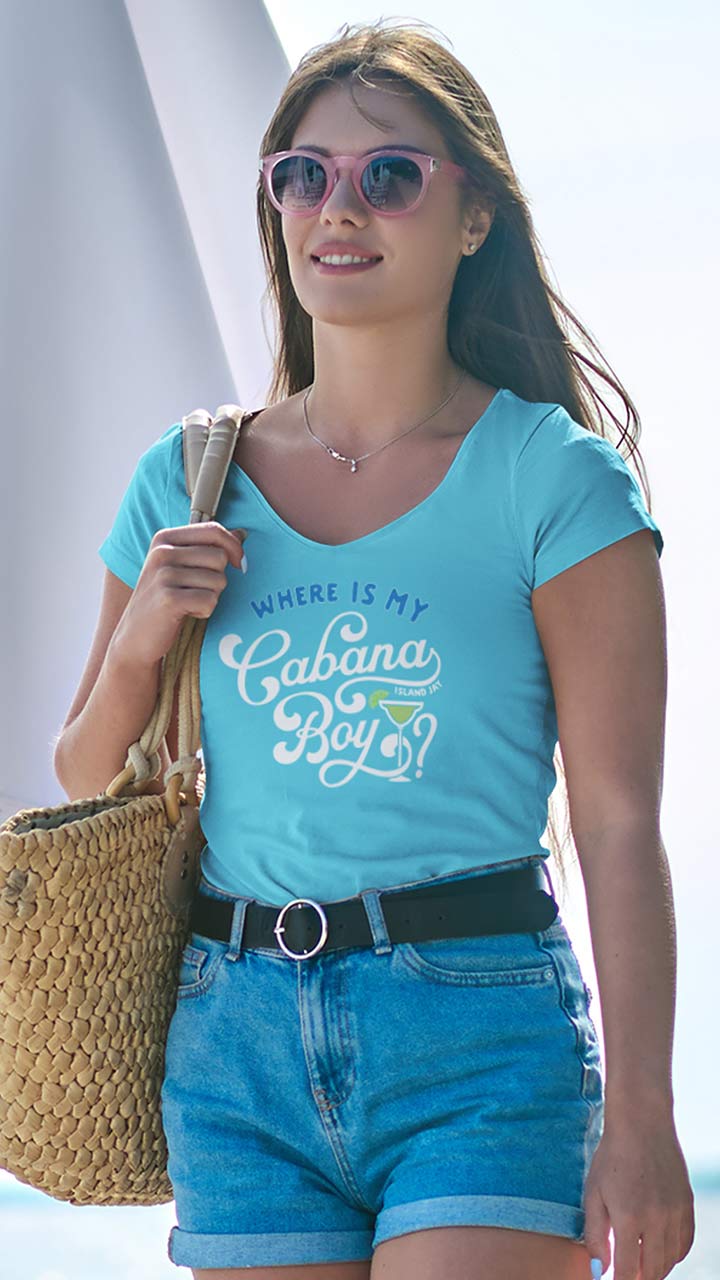 Best When Paired
And now we see the uniform for the dependable Cabana Boy!
The Cabana Boy knows when and where he is needed. His satisfaction comes from the happiness he brings his patrons. His happiness comes from the limited few that truly appreciate the services a Cabana Boy can provide.
The Life of a Cabana Boy
He may not always make his way in the realm of a Robert Louis Stevenson novel, or on the guest list of a yacht…hell, he may not even find his name at the bottom of a resort roll call list.
But when he is needed, he is there in uniform.
---
Trademark & Copyright Note:
Island Jay is the original creator of the "I'm the Cabana Boy" brand. It has come to our attention that other websites, including sellers on eBay & Amazon, have been counterfeiting our designs. Pretenders, thieves, and unoriginal losers each and every one of them. Not only are these criminals in violation of our legally protected trademarks and copyrights, they're selling grossly inferior knock-offs at discount prices and hurting our good name in the process. Please protect yourself and the good people who have built our brand by purchasing only from the Island Jay family of websites.
Cabana boy tank tops
I bought my husband and his best friend the cabana boy t-shirts when our friends visited us in NM. They were so well made and such a hit! Thank you so much for getting them here in time! I will be making more purchases!!
Nice quality, good fit, fun purchase!
Loved our paired tanks where I could finally proclaim to the world that I have a Cabana Boy! All of my girlfriends were jealous and our posting wearing our TShirts on facebook got almost 100 likes! Good job Island Jay. Keep up the "relaxing" business with quality products!
Found my Cabana Boy
Fun shirts, I have the "where is my Cabana Boy", to wear at our pool and out in public. They fit well, as well as wash and dry well. My friends want to know where I hot them.
Vinyl Iron-Ons
We had previously ordered a Cabana Boy t-shirt bc the tanks were sold out. Great quality and very soft per description, however we thought it was a screen print not heavy vinyl iron-ons. We live in Texas where it gets quite hot. We emailed customer service who advised us due to the many colors that's how they do it but the tanks are screen printed. Well this year we ordered the Cabana Boy tank. Guess What??? When it arrived it also was vinyl iron-ons (not as heavy bc decals were smaller) even though only a few colors. Just would've liked it to be included in the description so we could've made an informed decision.
Love our tanks!
I bought the "Where is my Cabana Boy" & bought my husband "I'm the Cabana Boy" tank. They are a perfect fit & we love them!
Outstanding Customer Service😎! Amazing Tank!!
I can't say enough about the Customer Service!! They went above and beyond to make sure I was satisfied with my purchase! The tank is great quality and perfect for my husband! He loved it! Thank You!!
love this tank
great thank top great fit !==thanks